Great content is the secret to marketing success on the social web. That's what all the gurus and expert blogs tell you. And it's true; great content is what drives people to click, share, follow, subscribe, donate and buy. And Google seems to like great content as well.
But what exactly IS great content?
When you now go online and search for 'what is great content', you will not find an all-encompassing definition of what makes content great. And that is perhaps logical. Because as always… 'it depends'. Also, content is great, when someone thinks it is great. Just like with music. Or film.
Still, some music is loved by many and some stays undiscovered. Some pieces of content get found and shared like wild fire and some die-off the moment you publish them. So, what is the secret? What happens if you dissect a great piece content? What do you find? What are the fundamental elements that great content is build on?
Just yesterday, Steve Seager published a model called The Anatomy of Great Content. The model is intended as a discussion piece for B2B marketers and strategic communicators to help improve the quality of future content.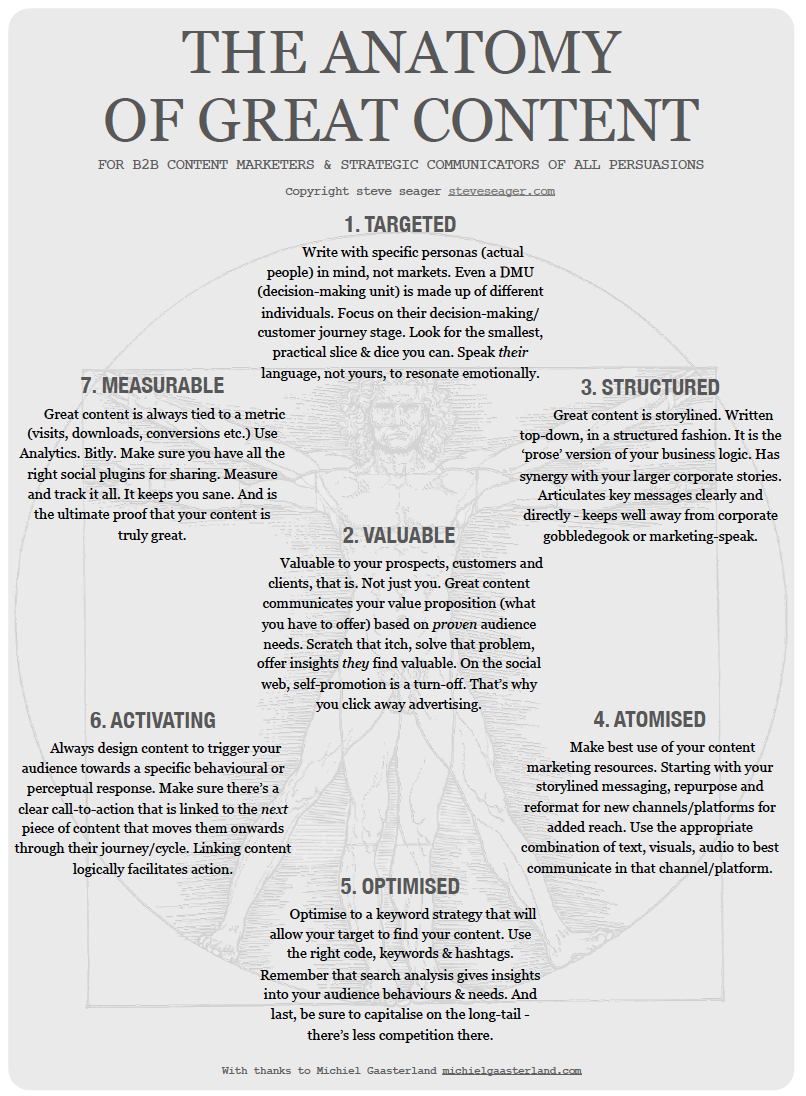 I think it's especially great to use as a sanity-check against your existing content!
I want to zoom in a bit on the first 3 elements: targeted, valuable & structured. In my experience, this is where marketers struggle most to get it right ('great' that is!). These elements are all about 'messaging'. About what you actually plan to say.
1. Targeted
The web is about reaching people directly. One on one. You always have a real person sitting on the other end of the screen. So, you need to write your content for individuals not markets or segments.
Take a look at some of your existing content and ask yourself: WHO is this written for?
2. Valuable
The web has gone social for a good while now. It's not about Quid Pro Quo any more. Instead you gotta give to get!. Figure out exactly what your target audience really needs and where you can help. Do research, look at your data, talk to your sales people and get the facts. It's about their needs!
Take a look at some of your existing content and ask yourself: WHAT is the real value of this piece of content to the person I am targeting?
3. Structured
Everything you do as a publisher on the social web, starts with the question 'what do I want to achieve?'. Then you ask 'with who' (targeted!) and 'how' (offer value!). Then you need to factor in who is saying it (your positioning) and what you are selling (specific aspects of your value proposition).
If you want to tie all that up in a great piece of content, and keep doing that, you need structure. Just like with music. Or film. A great film usually has a great story (that's you!), great actors (that's your staff, clients, prospects & stakeholders), great plot points (that's the themes and topics you are talking about) and great dialogue (that's you engaging in a conversation with your target audiences).
The combination of all that is what makes you love a film. What makes you remember it. And tell your friends about.
So as a last, but vital, sanity check against your content:
Take a look at some of your existing content and ask yourself: does it stick?
As for the other 4 elements in the model: atomised, optimised, activating & measurable… don't bother with those until you get your messaging right! Because you hardly ever see a great film that solely relies on great photography, camerawork and special effects. Now do you?
More context and additional information download the E-book below:
DOWNLOAD THE PDF: The Anatomy of Great Content: a content marketing model for B2B marketers and strategic communicators.