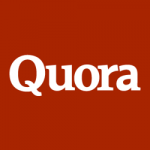 Quora is new and fast growing Questions & Answer website founded by two ex Facebook execs. Early 2011 Quora was tipped by Mashable as one of the websites to watch in 2011 and hyped by Robert Scoble amongst others.
So, what's the big deal? How is Quora different to Answers.com, Yahoo Answers, Ask.com and other Q&A sites than have been around for a long time?
I think the difference is in the way Quora's leverages community to improve quality.
Quora members collaborate to make things better. They can vote for the quality of certain answers, they can add their own answer or edit existing answers to suggest improvement or add additional context.
My shortest possible and over simplified definition of Quora: it's Ask.com meets Wikipedia meets Facebook.
Who is on Quora?
The people who have a profile on Quora are most often experts in their field. Quora seems to have a focus on tech & digital media, but you can also find answers to questions ranging from 'What is the nutritional value of peanut oil?' to 'What is the likelihood of the Earth being struck by a "killer" asteroid in our lifetime? Always good to know.
How does it work?
You start by setting up a Profile. You can use your Twitter or Facebook ID to login to Quora. This makes it easy for you to follow your Twitter and Facebook connections on Quora.
But following people is not really what Quora is about. On Quora you can monitor and track any action on a specific answer, question, user and topic you are following.
How do you use it?
The overwhelming amount of content can be a little bit intimidating at first. But once you start using Quora, it quickly becomes real easy to navigate. You can use the search box to ask specific questions, you can add your own questions and answers, but you can also ask questions to specific people.
Go here for a comprehensive guide on how to use Quora.
So how can you leverage Quora for your business?
There are some great posts on this. Check out this post called "9 Ways to Get More Out of Quora" from Mashable. It explains how Quora can help strengthen customer experiences, research your competition, connect with journalists, establish you as a subject matter expert, and more.
Also, this post is worth reading. It's "10 Tips on Using Quora for Business". Here other enterpeneurs talk about how they have made Quora work for them. From finding new ideas to talk about to sharpening your communications skills.
I think overall, Quora is a tool that allows you to help people. If you are an expert in your industry, get on there. Answer questions. Share your opinion. Let people know you know! You can build new valuable relationships and establish yourself as a thought leader.
Will Quora live up to the hype?
My take: I think yes. The combination of easy functionality, crowdsourced quality and clear contribution to thought leadership will ensure its place in the social landscape.
PS I think Quora will be huge and bought by Google. Watch this space!