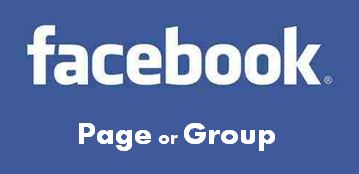 I often get asked what is the difference between a Facebook Page and Group? And which should I set up.
What is a Facebook Page?
In short, a Facebook Page is the equivalent of your personal Facebook account. If you as a business start a Facebook Page – this is your 'official presence'.
What is a Facebook Group?
A Facebook Group is the equivalent of something you join on Facebook, such as a university alumni group or an environmental cause.
The advantages of a Facebook Page
A Facebook Page enables your company or brand to have a public presence on Facebook.
A Facebook Page should be started by an official representative of your company. You can post your content in your Page and it appears in your news feed.
Any Facebook user can 'Like' a Page. And when they do, people who like your content can comment on it and share it with their friends. It then appears in their news feeds too. The degree to which you allow sharing and posting on the Page is something you control as an administrator of your Page.
The advantages of a Facebook Group
A Facebook Group allows people to come together around a certain issue, activity or cause and share their opinions on this topic.
A Facebook Group can be started by anyone. Membership can be Open which means that anyone can join. Or membership can be Closed or even Secret which means that administrators have full control over who can join the Group.
On a Facebook Group any member of the Group can post a discussion, a photo, link or video. Depending on the settings which are controlled by the administators of the Group, members can also share content from the Group with their friends.
Facebook Page or Facebook Group: which one should you choose?
My top line recommendation is:
If your objective is to establish a corporate presence on Facebook, create a Facebook Page.
If you want to encourage active member-to-member discussion on a certain topic or cause, create a Facebook Group.
Is that it?
Not quite. There are other factors that might influence your decision to go with the one rather then the other. Factors such as search engine visibility, ability to email members, access to metrics and statistics, ability to import RSS feeds, and so on.
If you want to get down to details, I recommend you read this great post on the Social Media Guide: an Australian blog which provides helpful advice and tips on connecting you to others, through the use of social media and social networks.
For now, I hope this helps!