Last night my business partner Steve Seager and I finally cleared some time to study the analytics on our blogs. We usually do this every day, but the last few weeks have simply been mad busy. When we took a closer look at Steve's stats for December we saw a huge spike in traffic on December 7. A bit like a whale in a fish pond.
Where in the name of Zeus did those people come from? Did we post a great presentation? Send out a press release? Publish a ground breaking blog post? Got a mention in the New York Times? After some research we found the answer.
A Retweet.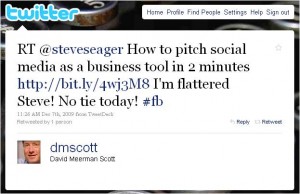 Yes. A retweet. On October 29th Steve sent out a Tweet to promote a post on his blog called "How to pitch social media as a business tool in 2 minutes: Meerman style". The post is about a highly influential author, speaker and social media marketer called David Meerman Scott and in particular his great way of pitching social media marketing.
According to Steve the man is a Fab author, Great speaker and Inspiring marketer, but he has a questionable taste in ties. Right.
David didn't catch Steve's blog post immediately. But on December 7th he did. He read and commented Steve's blog. And retweeted Steve's Tweet about the blog post. He added that he was flattered and wasn't wearing a tie that day.
It turns out that the spike in traffic on Steve's blog was traffic from David's 35.000 Twitter network. Nice! So what did Steve do?
He had already identified David Meerman Scott as an important influencer in our business
He tailored his blog post directly – and personally – towards David
He was provocative and conversational by making fun of the good man's tie
He did not much more than promote the post on Twitter.
In mass media you target many and hope for some to convert. The social web offers you the opportunity to target only a few and get visited, followed and talked about by many.
Have you already figured out who the biggest influencers are in your field of business? Now, how are you going to engage with them?