Twitter 101 Guide offers insightful case studies
Twitter is one of today's most successful social media channels. Having said that, many marketers and companies are skeptical of Twitter. They find it hard to understand how people use Twitter, how active people are and why people use it.
Some useful data on Twitter usage and stats can be found in this report [PDF] from Hubspot.
Still, however skeptical you might be, it is a fact that some companies have successfully used Twitter for their business. Recently the micro blogging platform itself launched Twitter 101, which is a special guide created to explain how companies can use Twitter for their business.
Interestingly, they've included ten case studies from companies such as Dell, Jet Blue, Pepsi and American Apparel.
I especially like the way Pepsi is approaching Twitter. "We're trying to humanize the brand, to make it more accessible to consumers," says Anamaria Irazabal, brand director for Pepsi. "On Twitter, they can complain or praise, and we can use it as a way to gauge how people are feeling".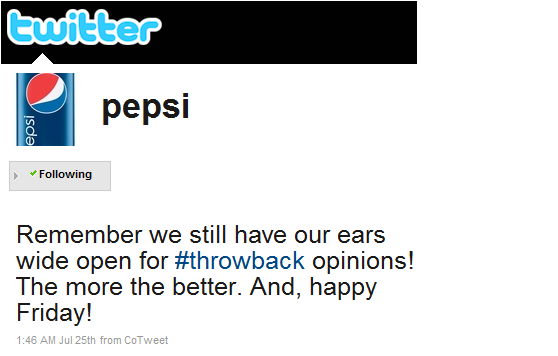 When Michael Jackson — who made high-profile commercials for Pepsi during the 1980s — died suddenly in July, the company used Twitter right away in its "Thank you, Michael" tribute, engaging with fans. "We can move at the speed of culture," says Irazabal. "Twitter means we can react to something that happens and provide a platform for dialog. That's the key word. It's about engagement and building the relationship.
What all these case-study companies have in common is that they've realized that Twitter is not a one-way shout out box. Twitter is a tool which allows you to real-time interact with your customers.
The catch is that participating takes a good bit more effort than traditional one-way communication where you blast out a one-size fits all message to as many people as possible. You can read all about the effort it might take here: Best Practices for Businesses on Twitter.
After reading that, think again about the real-time connection you can have with prospects, customers and influencers… Now imagine what you can do with that! Any ideas?