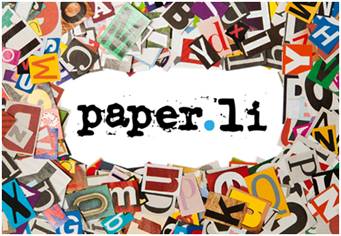 Recently I've written quite a bit about content curation: what it is, how to do it well, and new and existing tools to work with.
As you may have noticed, Paper.li appears to be the hot new content curation tool. You may even be using it yourself. So what is it? Is it any good? And how can you get the best out of it? Here's my take:
What is Paper.li?
Paper.li is one of the most popular content curation tools around. It currently has over 2 million users. Paper.li turns the content shared by your Twitter followers and Facebook friends into a personalized newspaper.
Sounds great, looks neat, but is it useful?
Once again, it's all about the content. To be frank, I've personally stopped clicking on the vast majority of Tweets that say 'So and so's Daily is out'.
Why?
Content curation is the art of finding great content online and passing on the most relevant and valuable stuff to your target audience.
Effective content curation means doing three basic things:
Curating content focused on a specific topic or industry (so it is targeted)
Passing on only the highest quality content
Keeping it up to date – doing it regularly.
The problem with most Paper.li's is in rule 1 & 2. Topics in people's dailies are often too broad to be targeted. Secondly, I can't see much quality filtering going on.
As for rule #3: doing it regularly has to be driven by rule #1 and #2. Not targeted? Not the best quality? Don't publish!
How to get the best out of your Paper.li daily
Whether you already have a Paper.li or you are thinking of it, here´s a few tips on how to get the best out of it:
1. Remember it's not your Daily, it's theirs!
Many people seem to set up their Daily Paper.li with content they find interesting themselves.  I would suggest flipping that. What is of interest to your target audience? Why would people want to see your Daily? They want to see content that is of value to them, and that they would have otherwise missed.
Tip: what is the one topic that you know a lot about? Curate content on that topic. This way your network will start seeing your Daily as a valuable resource for  information on that particular topic.
2. Don't rely on automation only, it needs your hand!
Paper.li automatically aggregates content based on your settings. You can for instance filter on keywords, hashtags, users, etc. This works to an extent, but you have to separate the wheat from the chaff. Take out the mediocre content!
Tip: keep adding high quality contributors, keep an eye out for great Twitter lists and weed stuff out before you publish it. Think quality. Less is more!
3. Do they really want it Daily?
What is relevant today, might be outdated tomorrow. So, you need to stay on top of any major developments in your area. But, first and foremost: keep the quality up! Don't keep shoving it in people's faces Daily. But do make sure it's there when people  need it.
Tip: publish your Paper.li regularly, but let quality prevail over frequency! Don't tweet out your Daily 3 times a day. Instead start with Tweeting it out twice a week and offer a clear link to your Paper.li from your blog and Linkedin profile.
A final note
I wasn't much of a Paper.li fan. Mostly because I hardly ever see one that I really like. So a few days ago I decided to bite the bullet. See if I could create the best one I could. So I've finally set-up my own Paper.li called 'Social Search Today'.
It's set-up for the specific topic 'Social Search'. This has everything to do with the increasing influence of social media on SEO.
I will put time and effort into filtering my stream for high quality content
I will publish it 2 max 3 times a week to start with. But only If I can find the best content there is. No great content, no publishing!
Take a look. See what you think. I'll be updating it soon. As long as there's enough great content out there!