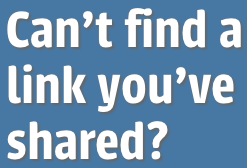 Goodmorning.
Here's a little post to turn you on to a neat little online tool.
It's called Trunk.ly.
What this online tool does is archive all the links you send out in social channels and makes them searchable.
I was looking for this kind of tool for a while now. It happens to me all the time that I am looking for a certain webpage, I know I've seen it, I know I tweeted it out to my followers, but I simply can't find it.
Trunk.ly archives all my tweets and makes them searchable on keywords. Apart from Twitter, you can also sync it to your Facebook account, RSS Reader, Delicious, et al.
With a bit of extra product development I can really see this tool take over my bookmarks.
Call me me silly. But I think it's the bomb!
PS – off skiing for a couple of days. Back in blogging mode on Monday 24.