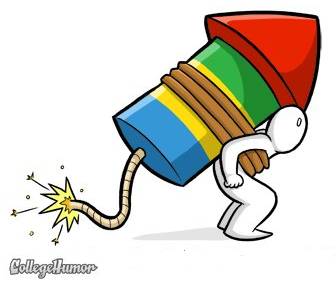 During the last year Internet Explorer has lost market share to Google's browser Chrome. This is not unexpected. The main reason for people switching browsers is:
Chrome loads web pages faster than other browsers!
Speed is one of the things you really want from a web browser. And Chrome has got it. It doesn't matter what speed test you read (this one, this one or this one) Chrome always takes the cake. Safari or Opera also do quite well, but if you are still on Internet Explorer: it's time to boogie people.
Here are 6 more reasons to start using Google Chrome today!
Chrome loads Gmail and other Google services faster than other browsers
You don't get any annoying pop-ups (Internet Explorer) and updates (Firefox)
You can easily synchronise your bookmarks if you work on different computers
It's super easy to search your browser history and bookmarks
You can add many little features and add-ons via extensions. Installing them takes a matter of seconds
Apart from extensions, Chrome offers loads more killer usability features, such as: searching directly from the address bar, doing little calculations from the address bar or drag 'n drop downloads to your desktop or other folders.
One reason to not switch browsers today
We are all creatures of habit. We don't change easy. This is the only reason why Internet Explorer is still so widely used even though it is the slowest browser on the planet.
My advice: break the habit!
(You can download Google Chrome here)