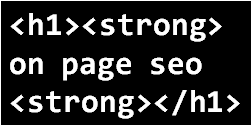 On Page SEO is a major factor for getting good organic search engine results. In my blog post the ABC of Search Engine Optimisation, I talked about the three most important elements of SEO. They are: Links, Keywords and Tags (code).
On Page SEO is about Keywords & Tags
On Page SEO means optimising your web page for a certain keyword or keyword combination.
You do this by making sure these keywords are used in the URL and in the most important SEO tags.