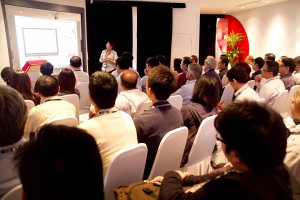 Organising events is a great way for SMEs to build awareness, connect with their target audiences and establish positioning within their industry.
But organising a great event – with mutual value for everyone involved – is not easy. Quite often basic principles are overlooked.
Here's a practical little checklist to make sure that the event you organise is worth the effort of organising and attending it!
1. Make sure your presentations connect to the target audience needs
My first advice is to make your event as targeted as possible. If you are targeting MDs or CEOs, talk about your vision on the industry or new strategic opportunities for their business. But if you are inviting medium level executives, make sure your presentations help them with the problems they are facing every day.
2. Live up to the expectation
Don't make big claims that you can't deliver on. Quite often events are advertised with slogans such as 'The secret of success in social media' or 'How to make your online strategy work'. When you make claims like that, make sure you deliver on them. If you don't, no matter how well the event was organised, your audience will end up being disappointed.
3. Have your attendees promote the event for you through social media
Once you have established a list of attendees, make sure they can promote the event for you. Publish teaser content on your blog or in social media channels such as YouTube or Slideshare. Connect with your attendees on Twitter and Linkedin. Ask them to share the content with their network. And oh yes, make sure the content is valuable, not just marketing blurb!
4. Keep on publishing throughout the event
Also during the event, allow attendees to send updates and photos to their followers and friends on Twitter and Facebook. Make sure you give them the hashtag you have claimed for your event on forehand. And of course, make sure they have access to high speed internet throughout the entire event.
5. Take good aftercare
Now that you have your audience engaged, make sure you leverage that. Publish a presentation or a video with the biggest insights of the event. Reconnect with your attendees in social media. Invite them to share. Ask them what they thought of the event to make your next event even better.
So, in a nutshell:
Publish valuable content, connect with your audience in social media and engage them in a conversation.
Happy organising!