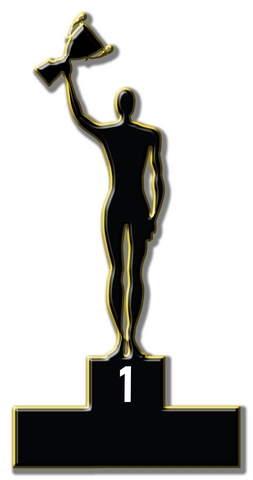 As we know, SERP 1 is the Holy Grail of marketing. It means that you are the number one result in Google for the terms you want to be found on.
I recently scored my first SERP 1 in Google on a very competitive keyword. Yaay! I thought it was a good idea to take this blog post and use it as an example to educate and inspire you – so you can start writing your own chart topping blog posts.
The post I am referring to is this one; 'Content Curation and how it can be helpful to you and your network'. It currently ranks number 1 in many local Google search engines.
So how did little old me get to the top spot on Google, while there are other, more influential people than me, also talking about this topic?
Also, most of the information in this blog post was already available on the web in one form or another. Still the post went to number one. Why?
Nutshell answer:
1. It's targeted
2. It's well written & structured
3. It's well optimised.
Here are some straight-talking SEO & copywriting tips if you also want to start writing blog posts that reach the top position on Google.
1. Start with research
On my blog I started to use the term 'Content curation' quite a lot and I wanted to link to a post inside my own blog explaining to people what is was.
I then checked if there was any demand for such a post. So, I used the Google Keyword Tool to check volume on the term 'Content curation' and the keyword phrase 'What is content curation'. As it turned out, quite a few people were searching on these terms.
I then proceeded to compile all the relevant information about content curation from the web, and I put it all in one document. I then asked myself the question what information is relevant to my target audience to answer the specific questions they have about this topic?
2. Think about your audience
On my blog I write mostly for marketers and SME business management. They visit my blog because they want to know what content marketing, SEO and social media marketing can do for their business.
Because content curation is often (wrongfully) seen as a substitute for content creation – I've put the distinction between the two all the way up in the blog post, right after the definition.
In addition I added some examples to make the topic more tangible, as well as adding best practices and tips to get started today.
All these elements in the copy connect directly to my target audience, their knowledge level and their informational needs.
3. Write well, structure well
Take a look at the post (link above in this post) and see how it was written. Look at how the content was structured.
All along I kept my target audience in mind. I used clear language, clean grammar and concise formulation to draw people through the text. Short sentences wherever possible. And a nice, logical flow.
Also note that I have italicised certain words. In contrast to what many SEO people would tell you, I didn't do this to boost the importance of the italicised keywords for ranking purposes. If that was the case I would have only italicised the words 'Content curation' and 'What is content curation'. Instead I have used italicising to create emphasis in the text. This helps for more easy reading and helps Google to understand the framework of the blog post.
All in all, the average reading time for this post is nearly five minutes, so most people have actually read the whole thing. Solid structure really helps.
4. You're online … DO optimise!
Great writing and structuring is the foundation of a well optimised post. But, if you want to get found, don't forget other so called On-Page SEO factors.
For example, you need to use the most important keywords (in this case 'Content curation') throughout your post (not too much!) but also in the beginning of the Title Tag of the post.
You also need to look carefully at the links you put in your post. Make sure they are relevant and provide the reader additional information or context on the topic.
There's a lot more you can do to optimise your post. But above else, you need to provide readers and search engines with a great piece of content.
Two posts that can help you write SERP 1 blog posts
The posts below give you tips on how to start writing SERP 1 blog posts as well. They contain all the guidelines I talked about in this post and more. It's the exact same steps I have used to write my own SERP 1 blog post.
Copywriting & SEO: 6 tips to help your blog posts get found more
SEO & Copywriting – Part II – 6 tips to get your blog posts found even better
Let me know how you get on. I would love to hear if these tips helped you to write a blog posts sitting at SERP 1!