In this post I will explain the concept of Long Tail SEO, how you can beat your competition in search engine rankings by applying it, and even how to get a shot at great search engine rankings for a single keyword!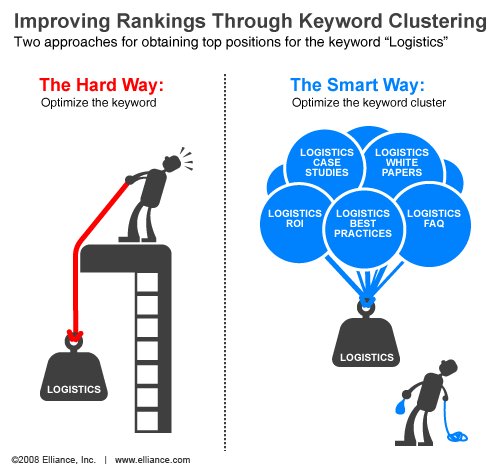 The above infographic (from an internetmarketing company called Elliance) is one of my favourites. It illustrates the concept of 'keyword clustering'. Keyword clustering means you are optimising your site for several keyword phrases rather than for one single keyword.
For most companies it will be very difficult – if not impossible – to optimise your blog or website for the keyword 'Logistics' and get to Google page 1.
But there might be great chances to get to Google page 1 if you use keyword clusters such as 'logistics best practices' or 'logistics white papers'.
Why?
Using the example in the infographic above, only 20% of the total searches that include the word 'logistics' will be on the single word 'logistics'. The other 80% will be made up of all the possible combinations of 'logistics' plus any other word.
This 80% is what some people call Long Tail SEO.
SEO Long tail: 3 reasons to optimise your website or blog for keyword clusters
1.  There is less competition for clusters than single terms, so you have a better chance to get better results in search engines
2.  The traffic you get when you use keyword clusters is more targeted, meaning that the visitors you do get will convert better
3.  By working the long tail you can be sure of offering better targeted, more relevant content to these visitors when they find you
And a bonus too … while working these clusters, you are also working the top single keyword. Over time you may actually get a chance of getting visible on this too!
So what is the best strategy for getting visible on these keyword clusters?
Get publishing!
Do your keyword research, develop a keyword strategy, start a blog and start publishing valuable content optimised for the SEO Long Tail. With each post that you publish, you drive your keyword strategy.
When you do this, you will be able to take a big bite out of the 80% search volume of the SEO Long Tail.
How to get started?
Start thinking about your value proposition. Which words do you want to be found on?
Focus on going for the long tail – always use a cluster of two or three words.
Type these keywords into Google. Meet your competition! Then check if the competition is optimised for search engines.
In my experience, especially for B2B brands and service providers, the competitive field is wide open for the SEO longtail!
The question is – will it still be open next year when everyone else starts publishing?