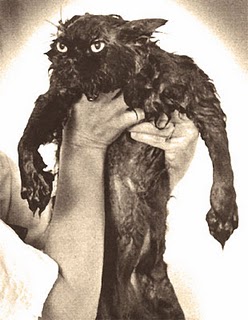 Marketers and IT is a bit like cats and water. Can't live without it, but we certainly don't want to take a swim in it either.
But now that SEO is a core business skill, you shall need to dip the techy waters just a little bit deeper than you would ideally want to :-/
But fear not. Help is on it's way. There's the internet. And it's full of helpful people, sharing great knowledge.
When you are building a site:
Here's a Technical Site Audit Checklist you can stick under your arm, when meeting with your IT guy.
When you are moving a site:
You should take a look at this nice infographic that tells your IT guy exactly what to do to migrate your existing incoming links to your new web pages. Must do!
When you are managing a site:
In principle, when you have a good content management system (CMS), your website should run like a baby. But marketers and a CMS are often not a great combination either.
Sometimes you might put a broken link into a blog post. Or you might delete a page without knowing that Google had already indexed it.
What you need to do is submit your website to Google Webmaster Tools. This blog post tells you how to do it. This allows you to see your site through the eyes of Google.
When you have Webmaster Tools up and running, check for any 'Crawl errors' under 'Diagnostics'. Under 'Details' you can see the 'Status codes'.
The infographic below tells you what these status codes are, and why they are important for SEO. A bit more info on that in this blog post here.
In a later post I will explain how you can fix them. Good luck with getting your marketing hair wet with IT & SEO.