Our tagline is 'You are what you Publish'. Meaning that you need to publish great quality content to do business on the social web. And with Google's recent Panda update to its algorithm, it's clear they agree.
As we know, Google's mission is to help get you, your customers, prospects and stakeholders better search engine results. In other words, give you better quality content – every time you search.
So to develop the Panda update, Google undertook independent research to ask real individuals questions such as: "Would you trust this site with your credit card?" This is quite a change from Google's usual quantitative pure data-driven approach. (I wrote about the rising importance of Trust for search engines a little while ago.)
Once Google had done this research they updated their algorhythm to further incorporate Trust. And then rolled it out to all English language search engines results.
The results of the Panda update and why it matters to you
According to this article in searchengine watch, it appears many industries who are not publishing great quality content have had their visibility in search engine results dropped. Below is an infographic that shows which industries have suffered most (in the UK).
Although this infographic isn't a direct visualistion of the impact on search engine visibility, one thing is very clear. Google's quest for great quality content is clearly on. And we love it!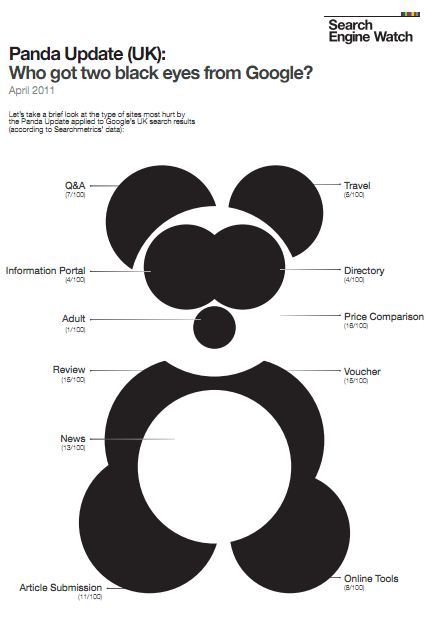 Download the full PDF from Search Engine Watch here