Great primer for the new rules of marketing and PR…
In nearly all the organisations I visit, I hear people actively debating a more effective use of online communication as a means to reach business objectives.
One of the biggest challenges here is to convert the collective 'mass communication' headset to a headset that embraces the new communication rules of the web.
If you want to get your organisation on the same page quickly, we recommend buying a few copies of this book by David Meerman Scott.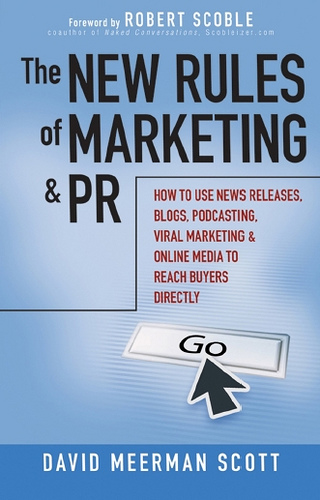 Without any further ado, the New Rules of Marketing and PR:
Marketing is more than just advertising
PR is for more than just mainstream media audience
You are what you publish
People want authenticity, not spin
People want participation, not propaganda
Instead of causing one-way interruption, marketing is about delivering content at just the precise moment your audience needs it
Marketers must shift their thinking from mainstream marketing to the masses to a strategy of reaching vast numbers of underserved audiences via the Web
PR is not about your boss seeing your company on TV. It's about your buyers seeing your company on the Web
Marketing is not about your agency winning awards. It's about your organisation winning business
The Internet has made the public relations public again, after years of almost exclusive focus on media
Companies must drive people into the purchasing process with great online content
On the Web, the lines between marketing and PR have blurred.