Visualise your proposition…
In my blog post 'It's all about them, not you', I suggest a little check to see how consumer oriented your website is: just by grabbing a pen and counting the number of times you use the word 'we' on your website as oppose to the word 'you'. It really helps you get a feel of how consumer centric your organisation is.
Here's a nice way of visualising all of the words on your website or your blog. Go to Wordle.net. Add your URL or the text from your website. It generates a really neat word cloud. In essence what you are looking at is the way you articulate your product or service.
Here's mine: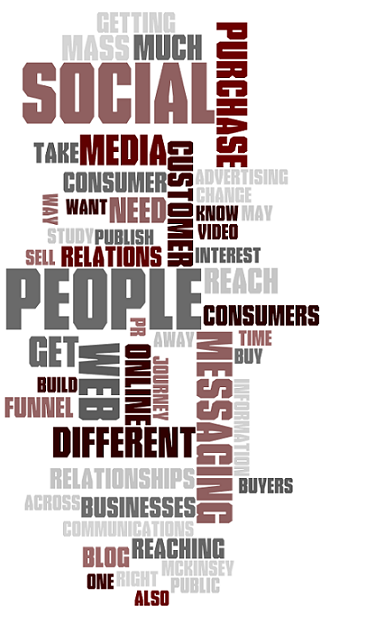 Hmmm. Interesting. I'm pretty happy. I like seeing the words 'people' and 'social' stick out. On a critical note, I would have liked to see the words 'PR' and 'content' highlighted a bit more. Let's keep an eye out for them in my next posts

So, how does your Wordle cloud look? Are you happy with what you see? Was this what you expected? Here are a couple of things to think about:
Is this the language my consumer speaks?
Am I talking solutions or products? (count the number of times you use your product or brand name as opposed to customer 'problem' related words)
Am I being objective? (count the words 'great', 'cutting edge', 'unrivalled', etc)
Are there any essential keywords missing?
Are there any words overused?
A tag cloud can help visualize how you communicate your product or service.
But importantly, it can also give you an insight into how easily you are found on the web by potential clients. As we know, keywords are the terms people use in search engines when they have a question or a problem.
So the big question is: how close is the match between the words prospects use to find products and services, and the words you see in your tag cloud?
I love Wordle. It helps keep me focused, and it helps me remember to always focus on 'them', not 'you'. Nice.