As a marketer, I thought the era of putting asterixes behind special offers to your customers was sort of over.
I thought web 2.0, consumer power and customer advocacy kinda put an end to that.
But it seems that Linkedin, a web 2.0 company worth $9 Billion is still in the business of making misleading offers to their own customers.
Today I received an email from Linkedin with a headline saying: 'Try Linkedin Premium free for 1 month'.
When I opened the mail I saw what you see below: "Give your productivity a boost – for free!"
Finally, the sub headline saying:
Try LinkedIn Premium free for 1 month *
That innocent little asterix made me very alert.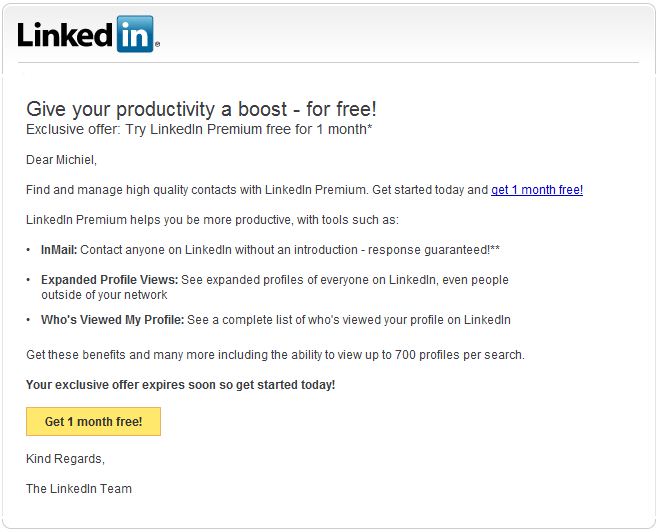 The problem I have with it this is:
'Try for free' is different to 'Buy with discount'
I am already a Linkedin customer. I have a 'Basic' (free) account. So, if Linkedin offers me to 'Try Linkedin Premium' I consider it a test ride. Great. I'll take her out for a spin. And if I like it, I'll buy.
But instead of trying for free – what that asterix means is – you are actually offered to 'Buy Linkedin Premium & then get one month free'. Of course, you have to go all the way to the end of the fine print (see 'Terms & Conditions' above) to find out that your trial will automatically roll over in a paid premium account.
So I am buying. Not trying. And it feels misleading.
And it goes on:
InMail: Contact anyone on LinkedIn without an introduction – response guaranteed! **
Two asterixes! What kind of non-sense is that?!
'Response guaranteed' is different to 'Refund if no response'
The Terms & Conditions (see image above) say that "If you don't get a response to your InMail message within 7 days, LinkedIn will return that InMail credit to your account. Unused InMails will roll over and accumulate for up to 3 months while you are a Premium member."
Ah. OK. So, you get a refund. But if you don't use the credits within 3 months, you lose them anyway. Hence the double asterix.
Rapping up the rant
I don't really like to rant. I don't do it much.
But some things I am passionate about.
I think the web 2.0 offers marketers a great change to offer propects and customers much more value throughout their marketing communications. That is what inbound marketing is all about. That's why people come to you, instead of you having to go out and find customers through broadcast & interruption marketing techniques.
So, when people are already your customer, when they already gave you their email address: don't abuse their Trust. They might just start ranting about you online.
Suggestion to Linkedin: let me try Linkedin Premium for 3 months. If it's that good, these 90 days is probably enough to get me hooked on it. I would then gladly buy it. You don't need to push me.
Just have a great quality product, be transparent and honest. And that's Edelman talking. Not me.