I'm sitting here with my headphones on, listening to the new Radiohead album 'King of Limbs'. And I'm thinking: Wow!
First of all, I think that 'King of Limbs' is Radiohead's best album since 'Kid A'. But an even greater achievement is the fact that they are still here! Still relevant. And making the music they're making. The music they want to be making.
Most people know Radiohead from songs like 'High & Dry', 'Street Spirit' and 'Karma Police'. Those songs are from 'The Bends' (their 2nd album) and 'OK Computer' their 3rd – and massively popular – album.
I remember the day 'OK Computer' got delivered to our offices at EMI. I was over the moon. Not only because I was amazed by the music, but also because I knew we were going to ship some pretty serious numbers on this record.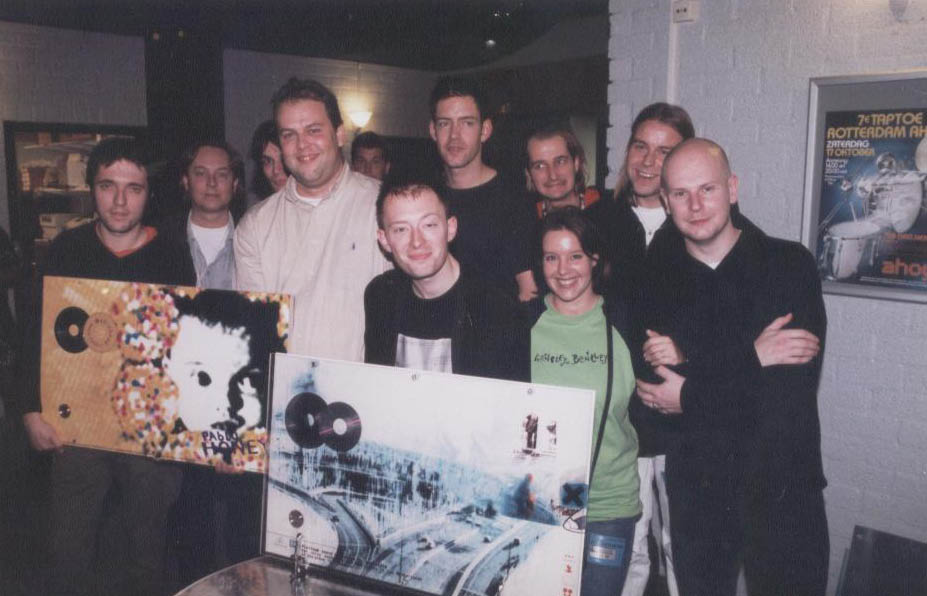 In The Netherlands we launched a nice little additional campaign together with the first single 'Paranoid Android'. The single contained a sticker that said 'Collect all 4 Radiohead singles of the album OK Computer and get a free limited edition single with exclusive tracks'.
At the time, EMI was expecting to do 4 singles off the album.
But after 3 released singles the album had already sold more than 220.000 albums in Holland alone. The band was headlining major summer festivals and was playing sold out stadium shows.
When I requested to do a 4th single: the band said 'no'.
Really?! No?
But 'Exit Music' is a great single! With great cross-over potential. Lots of airplay. More gigs. And we can probably sell another 50.000 albums on the back of this single, maybe even more! Bigger, better.
"We know, Michiel", they said. "But the answer is no. No 4th single."
Back in 1998 I had a hard time to fully understand why the band wouldn't let me release it. Now – 13 years later – I understand much better.
You have to stay at your core. Do what you are passionate about. Do what you are best at. And stay alive. Keep breathing!
Radiohead achieved all that and more.
Look at where they are at now:
1. They are making the music they want to be making
2. They are their own boss
3. They have a huge fanbase
4. They are in control of how they market and distribute their music
5. They are making enough money for a great living
6. They are happily married with children (come on, Thom!)
7. They play gigs where and whenever they want
8. They are all involved in interesting side projects
9. They are all fonzies as band members
10. They are not under any sort of threat or pressure (CD sales crumbling, need to sell more albums, need to chart singles, etc).
11. …. And one more for the road….
They are massively influential. Musically, politically, sexually (I'm busting your balls guys).
Man, I say well done. Congratulations gents. What a great achievement.
I wonder what it was that made them take such clear decisions.
Maybe it was this:
I remember one of the band saying that at a certain point they felt out of touch with their audience.
That's a major insight.
I think that for artists the connection with their true fans is the very heart of their existence… and business model.
Radiohead has really made that point for me.
I think if Radiohead would have released that 4th single. Worldwide. With a nice video and a stadium tour… They would have now been hhhhuge!
They would have grown to be an even bigger band. A bigger audience. Bigger gigs. Longer tours. More pressure. Bigger, better. Less breathing space. And further away from their core.
The band said in later interviews that OK Computer had nearly killed them as a band. The road back to their core must have been long and difficult too.
That 4th single wouldn't have made it easier. Wouldn't have made it bigger and better.
It would have killed it.
Radiohead. I salute you.
As for the fans. I'm sorry you didn't get that fourth single. I would have packaged it nicely. With exclusive tracks. Which you were entitled to.
But instead you got your band back. They beat Marketing.
You can now buy their album in Limited Edition value pack or high quality MP3 or WAV.
It recommend the Euro 39 value package.
You deserve it.
And yes. You also owe it to EMI. A bit. x
And to me.
From the sideline.
***
Obligations
Complications
Routines and schedules
A job that's killing you
Killing you.
Radiohead – Little By Little (From King of Limbs)