Wow. Shocking.
As it turns out, Linkedin has sneakily changed it's members account settings, so that their name and face can be used in advertsing messages on the Linkedin platform.
Ehrm… What?!
That right. You are automatically opt-ed IN for social advertising. Unasked. Unwanted. Unpaid.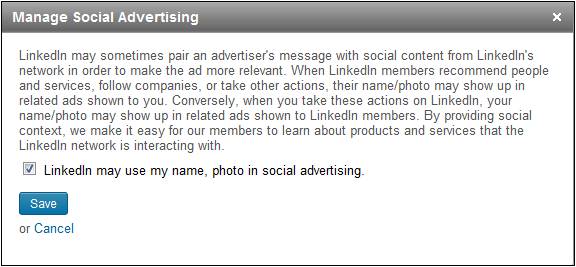 I am not 100% surprised though, because Linkedin has a habbit of deploying socially unethical marketing techniques.
Anyway, let's not rant too much and just help you out with telling you how to shut it off:
How to opt-out of Linkedin social advertising program
Login to Linkedin
Move your mouse over your name, fold-out menu appears: choose 'Settings'
Choose 'Account' (bottom left)
Under 'Privacy controls', select 'Manage Social Advertising'
Uncheck box 'LinkedIn may use my name, photo in social advertising'
Click 'Save'
You now receive a notification 'You have successfully updated your social advertising settings'.
PS
Dear Linkedin, it is soooo not worth screwing over your own clients over this. All the major Dutch press outlets have picked up on this story (e.g. here, here and here). Not so good for your online reputation.