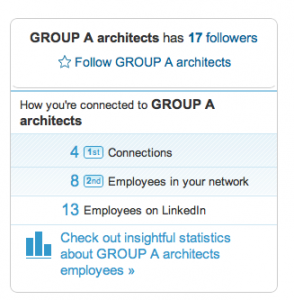 I have often been asked by my clients how to create a company profile on Linkedin.
Creating a company profile on LinkedIn helps you get found in LinkedIn searches. Your company profile can also be found by people searching in Google.
A Linkedin company profile gives you a chance to position and better promote yourself in your industry. Plus, it gives insights into who is working in your company, so their followers can follow your company too.
When people follow your company profile they will get information about recent hires and promotions, new job opportunities and all your company profile updates.
Here's how to create a Linkedin company profile in 8 easy steps:
1. Join LinkedIn or log in if you have an account.
2. Click on 'Companies' in the navigation at the top of the Linkedin page
3. Select 'Add a Company', just below the search box on the right
4. Put in your company name, your company email address and click the check box that indicates you are an official representative of the company
Tip: Take care of consistency in writing your company name (e.g. additions such as Ltd or Group, Holding, et al)
5. Add basic information about your company, such as a description, specialty, industry, company website URL, et al.
Tip: make sure you use the keywords from your keyword strategy in the description and speciality sections of your company profile!
6. Add your company logo
Tip: logo can be max 100 x 60 pixels (PNG, JPEG of GIF) and max 100kb
7. Add additional information such as all of the company locations, size, founding year and possibly financial information as well
8. Add the RSS feed of your company blog and possibly your Twitter channel
Tip: adding the RSS feed of your blog to your company profile is a great idea. People will get the updates from your blog in their news streams. Have a good think if you also want to do that for Twitter. You run the risk of flooding your followers with information they don't value!
Alrighty. Hit 'publish' and you're sorted!
One last tip: when you are done and published, take a look at the 'products and services' section of your Linkedin company profile. Here you have a chance to showcase one of your products including full description, product website URL, YouTube video, et al. All for free! Nice!
In addition, you can also upgrade to a premium account. This allows you more job postings for instance, but also gets you more analytics features.
In the FAQ section you can find a lot of detailed information on Linkedin company profiles.