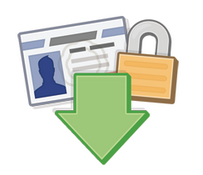 Unfortunately, there is not yet an app that automatically moves all your Facebook pictures to Google Plus.
But there is a way around it.
You can download all your information (photos, videos, posts, etc) from Facebook as a ZIP file. You can then just drag and drop your Facebook photos into your Google Plus photo albums.
***
UPDATE
New blog post: you can now import your Facebook photos automatically into G+ by using a Chrome browser app.
***
Here's how you move your Facebook photo albums to Google Plus:
1. Go to Facebook > Account Settings > Download your information > click 'Learn more' > click Download
2. Facebook now starts processing your request
3. Wait for the email to arrive (waiting time depends on how much content you have on your Facebook account)
4. When the email arrives it says 'Your download is ready'. Now click on the link in the email
5. The link takes you to the Facebook download page: enter your password
6. You then start downloading the ZIP file
7. Once downloaded, unzip the file and you see a folder with your Facebook name
8. When you click that folder, you see a sub folder called 'photos'  and when you click that you get all the sub folders which are all your photo albums as well as the photos you've shared as wall posts, etc
9. Now go over to Google Plus, click 'Photos', click 'Your Albums'
10. You can now drag and drop your photos into Google Plus and categorize them as you like
11. As you 'Save' the albums, Google Plus asks you how you want to share: make sure you share only with the Circles you want to share the photo albums with…
12. You can of course still choose to share individual photos from the albums with people in other Circles or even share them publically.
Alrighty. That's it. Nice to have your beloved Facebook photos also in Google Plus. This actually starts looking like something now. Next thing you know, Google Plus starts looking cosy!