You may have been an early adopter of social media. But is it getting you real business results? Here's a quick overview of where, in my experience, the market is at, and where you need to focus for effective social media marketing.
When we started our business about 18 months ago, most clients we talked to just wanted to 'get into social media'. The reason? Social media had gotten too big to ignore. Businesses started generating results.
At this time, the opening line on our we do communications website was: "We bet you noticed. Something has changed'. This connected strongly with our prospects headset at the time.
A few months ago, we changed the tagline of our website. The home page now reads  "You are what you publish". Actually, this was our tagline all along. But we only launched it recently. Why?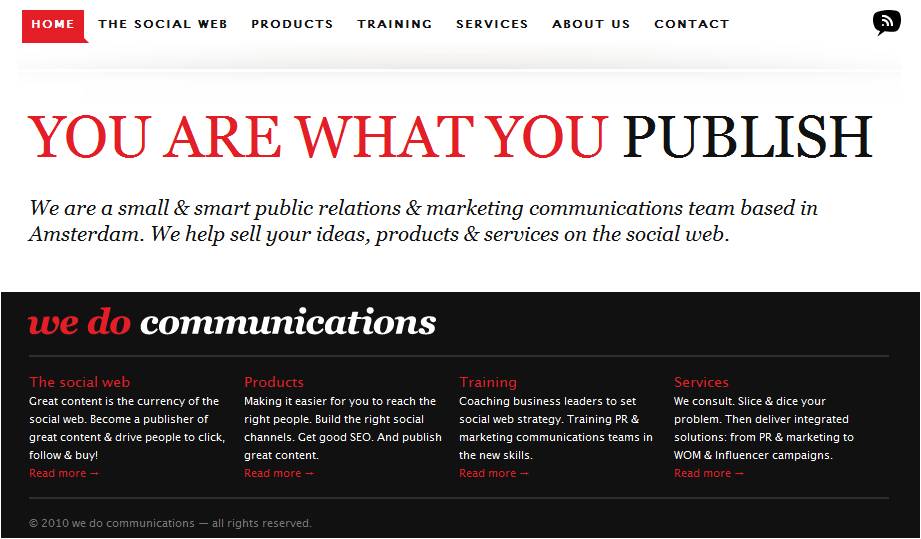 What has changed over the past year?
1. Businesses are starting to understand the value of great content
Over the past year many businesses created a Twitter or Facebook page. They got their hands dirty trying out these channels. But most of them have struggled getting real business results.
But a certain percentage of these companies (let's call them the early minority), have started to have real successes. These businesses realise that social media is not a magic bullet. Social media is dependent on the quality of the content you publish IN social media.
Our favourite potential clients are those that ask such questions as: What kind of content do I publish? How do I keep producing content? How can I make my content valuable to my different prospects, customers and stakeholders? How can content help me to generate leads and drive sales?
These are great questions. If you are one of these early minority, keep on it! Focus on great content!
2. How we adapted our acquisition strategy
When we just started out, we were happy to talk to to any customer who was looking into the opportunities of the social web. But those clients took quite some convincing of the importance of content, and its power to drive great social media marketing.
This led to long lead times for us, heavy investment into acquisition, and slow results.
Today, because of our increased prospect awareness of the value of great content, it became a viable business strategy for us to go full ahead in targeting these potential clients.
Because of this choice we today convert more prospects into clients. We convert them quicker (lead time) and more effectively (less time on proposals, meetings, clarifications, et al) and get better results for our clients.
So where are you?
Do you still think social media is the place to be because it's hip? Or are you what you publish?
In my blog I will frequently be talking about how you can become a publisher of great content that drives business results. You can find my posts on this in my 'Content Marketing' category.
If you would like to know more about what content can do for you, drop me a line.