Just last week, Google started testing their much talked about social network called 'Google Plus'.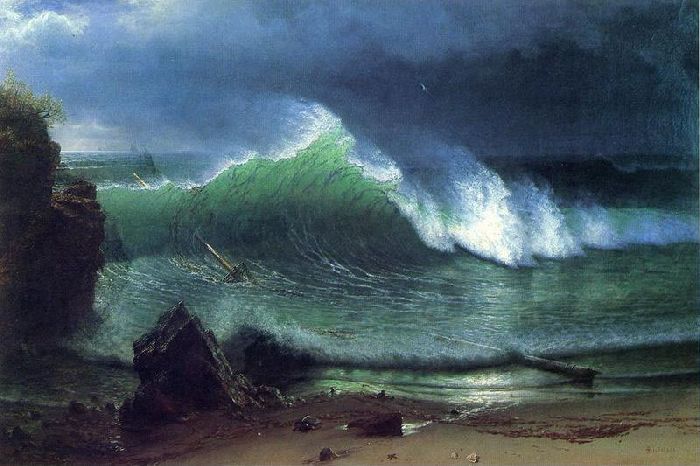 At first I was really surprised to see Google launching this product under the Google brand name because 'social' just isn't a part of Google's brand DNA. Google is about search. To 'google' even became a verb.
So, if Google wants to grab marketshare in 'social' it would be logical to launch it under a different brand name, right? Just like they took a bite out of the browser market using the brand name Chrome.
But after reading this article in Wired, I understood better why Google is launching this social network under their own brand name:
Google is repositioning itself.
Take a look at this quote from Vic Gundotra, Google's Sr. VP of Social:
"We're transforming Google itself into a social destination at a level and scale that we've never attempted — orders of magnitude more investment, in terms of people, than any previous project".
Greed or Fear?
Why is Google doing this? Are they changing because of fear? Or because of greed?
The image at the top of this blog post is a painting called 'Emerald Sea' from German immigrant artist Albert Bierstadt. 'Emerald Sea' was the initial Google code name for Google Plus. Google has this image on the wall of the fourth floor in their Californian HQ. It's there to inspire the development team to remake Google into a major social networking force.
Vic Gundotra says:
"We needed a code name that captured the fact that either there was a great opportunity to sail to new horizons and new things, or that we were going to drown by this wave."
… drown by this wave? Excuse me? The most powerful web company in the world has a fear of being drowned by the social wave? That is a serious statement. And it signals that fear seems to play a bigger role than greed.
Google: all the way social
So, Google isn't just in it to grab some marketshare in 'social'. It's about something much bigger than that. Google wants to become social.
From a branding point of view, I think they will have a tough time to be perceived as social by consumers.
But from a product development point of view, I think they have a good story.
Check out the 'Circles' functionality in the new Google Plus. It allows people to share specific content only with a specific user group that you – the user – defines. This will certainly change the way people share content. It makes things much more targeted, instead of blasting it into a stream that everyone can see.
Could Facebook copy that? Yes they could. Sharing is at the heart of every social network. However, changing the way that sharing works within Facebook will have a major impact on design and usability. I don't think Facebook is easily and quickly going to do that.
Google Plus: the window of opportunity
So, Google has a window of opportunity. If they are able to capitalise on early adopters in social media as well as their approx. 200 million Gmail users…. I think they stand a good chance of gaining some serious traction with Google Plus.
When the biggest web company on the planet, with a Gross revenue of about 30 Billion USD wants to become social, I think you can bet your life on it that they will become more social.
Just exactly how social is up to Google. We will see.