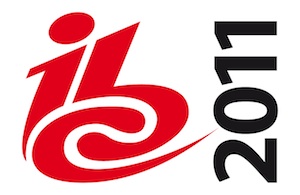 This Friday and Saturday I've been invited to be part of the Design Award Jury for the Hall 1 exhibits for the 2011 annual International Broadcasting Convention at the RAI Amsterdam. Together, we will be looking for the exhibits with a strong, stylish and confident visual presence that makes for an accomplished and differentiated brand.
The IBC expects around 48,000 attendees from more than 140 countries and includes major industry speakers such as filmmaker James Cameron, Virgin Media COO Andrew Barron, Christian Hernandez, head of international business development EMEA Facebook through to pretty much everyone who is anyone in the global media and broadcast industry.
To get in the mood, I decided to check out more than 100 websites of the Hall 1 exhibitors. As marketing director of our strategy and communications 2.0 company I couldn't resist doing a quick analysis of how these companies represent themselves online. Here's what I found:
1. The 'Industry leader' exhibitors- 15%
I would only classify about 15% of the sites I visited as 'very good.' These are companies that position themselves well as industry leaders. They clearly talk about the real business value of their products and services. They have well designed websites with good architecture, they speak in clear language, free of gobbledygook. And most of the time they are optimised to a keyword strategy.
Quick tips: Hardly any of these sites had a blog, newsroom, live Twitterfeed or social sharing. If they did, they could, for instance, speak about the state of the industry, their ambitions, their people or their processes. That's a missed opportunity to translate market leadership into thought leadership. Plus, the lack of a newsroom or social media presence means that they can't get the most out of the conference by posting live news there and get it shared by others. That's a shame!
2. The 'Product' exhibitors- 45%
Around 45% of the websites I saw were heavily branded as 'product suppliers'. They centralize the product and the technical specifications. They speak in technical language, don't talk about the business value of their products and services, and less than 20% of these were optimised to a keyword strategy.
Quick tips: Unless people already know you and are searching for your product, it's very unlikely that these type of sites will ever be found. Virtually no-one was optimised to a keyword strategy. By focusing more on the positioning of the company itself – and talking about the business value of their products, these companies could start to compete on a more level playing field with the 'Industry Leaders'. And I'm sure many of them are totally capable of it!
3. The 'Corporate' exhibitors – 35%
These websites had a strong emphasis on press, events, investor relations, board names, company structure, etc. Their online representation and communications is mostly targeted at their direct stakeholders. Their investors, suppliers and existing client relationships. Products were often as sub navigation. Many of these 'corporates' appeared to be distributors.
Quick tips: These companies need to be careful not to use too much gobbledygook. The fact that you say that your solutions are cutting edge, mission critical, world class and groundbreaking doesn't mean that people believe that. In fact, most of the time they won't. And they don't differentiate you from the competition at all. I would advocate normal language. Oh, and also here… less than 20% of these sites were optimised to a keyword strategy.
4: The Ambitious and Web 2.0 savvy exhibitors – 5%
These are the kind of companies that clearly see the importance of good online representation. They were often small, but obviously ambitious and web 2.0 savvy. They were very well positioned – often towards specific personas. Their value proposition was crystal clear – in as few words as possible.
They also use rich media such as animated video and designed PDFs as takeaways. They all had share widgets on them too. They speak about who they are, introduce the people in the company, including a picture and are often clearly visible in social media.
Not surprisingly, most of them where also optimised to a keyword strategy for both the company and their products and services. Meaning – that whether you searched for an employee, the company or a product and service, you would find them.
Quick tips: Keep on doing what you are doing!
Conclusion
Many of the companies exhibiting at IBC obviously spend money on trade shows. Logical. This is where your market is. There's great exposure. Here you meet your buyers. Industry influentials. Collegues and other stakeholders. Nothing beats a face to face conversation.
But the other 363 days of the year, people are going to check out your website to find out more about you … just like I did!
Meanwhile, I'm looking forward to the tour of Hall 1 and see how the IBC exhibitors brand themselves in the flesh, so to speak. I'll let you know more as soon as I do!
PS – Thanks to Andi for the nomination.