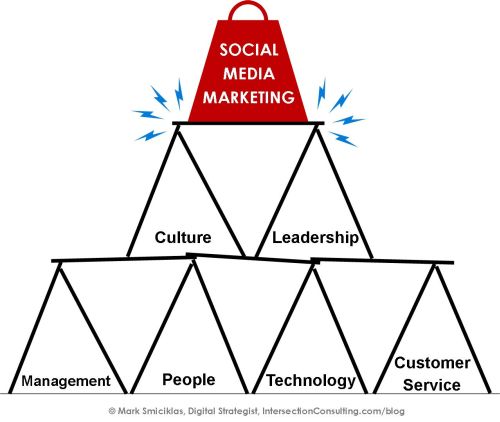 At the bottom of this post you will find a nice little video with a collection of infographics made by Mark Smiciklas. He makes cool stuff. So check out his Intersection marketing blog for more.
In the vid below he gives 19 examples of 'Social media best practices'. My favourite image is #4 at 50 seconds.
This will give you a really good insight into where you need to focus as an organisation.
In this section he highlights the importance of culture & leadership for success in social media marketing.
In essence this means:
A – Culture: to get success in social media all organisations need to focus on communicating the real value your business offers to your prospects & clients
B-  Leadership: the leaders of your company need to drive this process top down.
In the past two years, working in the area of 'social media marketing' we have seen organisations where the employees were really enthusiastic to start communicating directly with prospects and clients in social media. But they didn't have management support.
We have also seen management very keen to start using social media, but they didn't have support from their employees.
My advice: before you go into a social media marketing campaign make sure you have both management and employees engaged and committed!
In other words, make sure you take the time to create the right buy-in into your organisation.
Enjoy the video!