Taking the best of 2009 into 2010…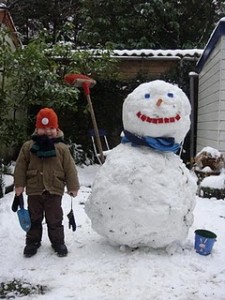 Typical. I intended to publish this post on December 31st 2009 but didn't manage to get it out in time!
Publishing meaningful, valuable content is one thing. To keep on publishing is another.
Yes, blogging takes time and so does building a new business from scratch. Sometimes the two don't blend very well. Also, I was busy building a snowman with my two year old sun Rijk, aka The King of Construction.
I started my blog in May 2009 and since than have written 33 blog posts. Boeh! I had planned for at least two a week. But, before I start bothering you with my new year's resolutions, let's try to extract something meaningful from this stat.
How has my blog been of value to me?
Well, first of all it has forced me into a different headset. With everything I do, every conversation I have with clients, I actively or subconsciously think about how others can benefit and learn from my experiences and conversations. This is the fuel for my blog.
So, has my blog also been of value to my business?
Definitely! Even with only so few posts, I have made valuable new contacts, attracted potential customers and strengthened my relationship with existing clients.
Another thing I really like about blogging is that most posts keep their value a lot longer then your average nation wide news paper. Nearly every week, I get questions from clients which I can answer in details by just referring them to one of my blog posts.
Summarized: blogging takes time and is not easy. It can be of great value to your business, but only if it's of value to others.
So let me close off with the blog posts read most by my readers in 2009. Hope they are useful!
Have a great 2010!
1. Smarter Marketing: Don't Advertise, Help Inform
A 2009 McKinsey's global study shows a definite change in the way consumers research and buy products. And that opens up ways of smarter marketing. When you publish content on the web that doesn't 'sell', but 'informs' you establish a relationship with that customer that increases the chances he will come to you, not your competitor.
2. The 'Dell Hell' Wake Up Call
Classic social media case study. The lesson learned? Don't let others drive your business strategy. Online communities can be powerful brand advocates, or critics depending on whether you interact with them openly or not.
3. Getting a Grip with Metrics of Social Media
By breaking it down into easy, manageable chunks, you are now measuring the effects of your activities. And that's really the key to social media: always tie it to specific objectives.
4. Making Noise or Building Relationships?
Rather than focussing your creativity on pulling ever more rabbits out of your hat, focus it on creating fresh and relevant content that builds real relationships. That's the real difference between online publicity and online PR.
So when you want bloggers to write about you, don't focus on the 'news' value. Instead, give them information and content which is of value to the people that read their blog. This is what makes bloggers tick. This is what makes them write about you.