McKinsey change the purchase funnel!
Everyone knows the purchase funnel gets narrower towards the end, right? The entire marketing process has been aligned to this principle for more than forty years.
Well, now we can think again. McKinsey's recent global study shows a definite change in the way consumers research and buy products. And that opens up ways of smarter marketing.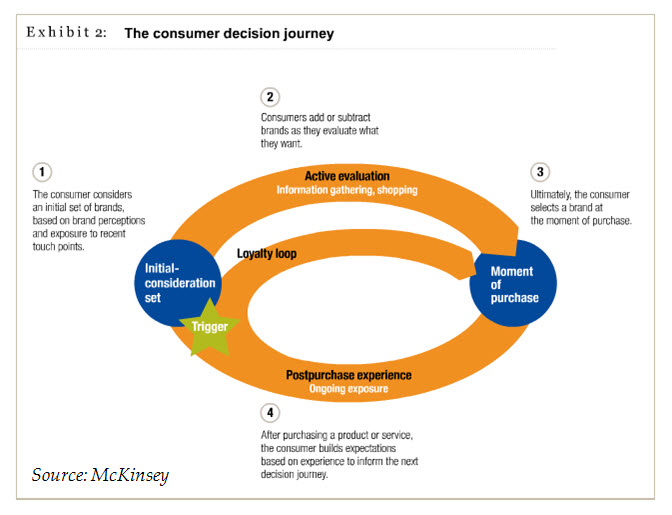 McKinsey have replaced the traditional purchase funnel with the 'Customer decision journey'. At the beginning of this journey, the consumer begins with an 'Initial consideration set' of brands or products. So far, so much the same.
Now, moving towards a purchase, the consumer enters an 'Active evaluation phase'. And here's where the real difference is. Instead of the funnel getting narrower at this point, it actually becomes wider. The number of purchase options increases!
During this active evaluation the consumer is reaching out for information to inform their imminent purchase. They are doing Internet searches, talking to friends and family, and listening to what's being said in forums and discussion groups.
And this is exactly where the opportunities are, especially for companies who cannot spend massive bucks on advertising. While many companies are still focusing their messaging on getting noticed (i.e.: advertising), the smarter ones start focusing on getting evaluated. And that means online pr.
When you publish content on the web that doesn't 'sell', but 'informs' you establish a relationship with that customer that increases the chances he will come to you, not your competitor.
Every time you publish your press releases, your thought leadership blog posts, every time you enter an online conversation with a 'customer service' instead of a sales headset, you are visible as a trusted resource.
And this means you are much more likely to close a sale. As a bonus you will also be rewarded with much better word of mouth, which will make your brand a part of the 'initial consideration set' of future buyers. And so the journey starts again: all without a single bit of advertising. Nice!