Have you tried searching for your company details in Google Maps? Probably. But it's even more likely that your clients or potential customers have.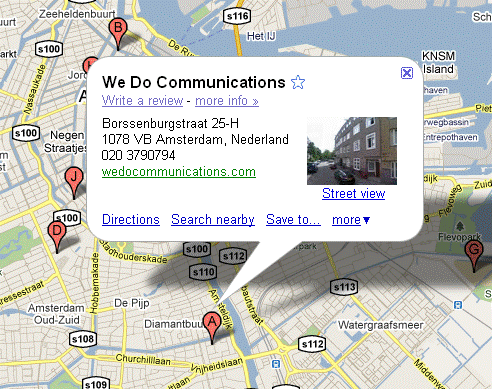 The information about your company in Google Maps is ripped from other websites, like the yellow pages. This information can be edited by anyone; Wikipedia style.
As a business owner, you have the opportunity to claim the information about your company in Google Maps. This way, you can be sure that this information in Google Maps is correct and up to date.
In addition, you can:
Upgrade your listing with photos, videos, et al
Integrate short announcements about your business (e.g. events)
View stats on how many people viewed your company details.
Here's what you need to do to claim your company listing in Google:
Go to Google Maps and search for your company name
Click on 'More' and then 'Edit details'
You are now in the Editing screen. Anyone can edit is information
On the right side of the screen you see the question 'Are you the business owner?'
Click on the link 'Claim your business'
Your are now in 'Google Places'
Fill in all the details about your business
When you're done, you need to get your data verified
If you choose the 'By Phone' option, you will immediately receive an auto call with a PIN code
Enter the PIN code, and you are sorted.
It will take Google a couple of weeks to sync the data between Google Maps and Google Places.
Worth doing! Now!