It was clear from the start that Google meant business when they announced the launch of their social network Google +.
Now, six months later, Google is taking rapid steps to further integrate Google + into the heart of the Google ecosystem: its' search engine.
As of today, G+ users can choose to blend G+ results in with the normal Google search results. This means that content shared in G+ makes it straight to the first page of Google.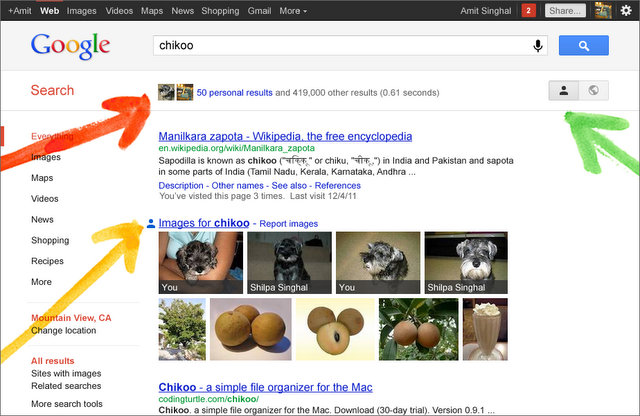 You can read more about it in this article in Mashable.
But, how will this impact your business now and in the future?
One small step
Is this new development in social search a big game changer for marketers? Not yet I think.
Currently, G+ has only got 40 million users compared to Facebooks' near billion. So, the value of G+ search results is relative because most of your real friends are on Facebook.
However, the integration with G+ is not something they can easily undo. Google put their money on this move. The mammoth tanker has set sail, so to speak.
One giant leap
Google has now worked up everyone's appetite for a more social search. So, Google cannot afford to offer anything less than a great user experience.
This means that Google simply has to build G+ into a major social destination, so they can really start enriching their search results with relevant social content.
The price of failing is writing a check to Facebook and Twitter to get the shared goodies from them.
In either case: search is getting more and more social. But, what is the bigger picture for businesses?
Meanwhile on the moon
I think it is safe to say that it will get increasingly impossible to get your content found in search engines if no-one likes, shares, plusses, tweets or in other ways gives it social kudos.
Google wants to dish up Quality content in search results. The rational is that content that gets shared a lot must be of better quality than content that is not.
In addition, Google is also putting much more effort in trying to establish if the content comes from a Trusted resource.
When you add it all up, marketing success on the social web is not anymore a matter of great SEO. Or social media marketing. Or content marketing. Or PR 2.0.
Instead you need to look at all of them in a joined up way.
Famous last words
I speak with people about 'social web marketing' every day. Most people think tactical. About traffic, networks, widgets, and tools.
But as a business:
My advice:
If you ever go out and buy strategy from an agency or consultant, ask for a strategy that makes content work towards specific business objectives, by knowing exactly what to say, to who, when they need it.
Sounds obvious, doesn't it