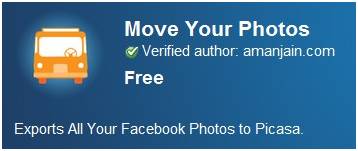 Last month I wrote a post about how to import your Facebook pictures into Google Plus.You can do this manually by first downloading your Facebook photos and then uploading them into your G+ Photo albums.
In the comment section of my post some people were kind enough to point out some alternate ways of importing your Facebook photos into Google Plus.
You can for instance use Photograbber, which also allows you to download your friends photos or any other photos that have you tagged for instance.
An interesting comment came from Christopher Russell who wrote a post about importing your Facebook photos into G+ using a recently released Chrome browser app.
Here's how you do it:
Open your Chrome browser (if you don't use Chrome yet, I highly recommend it!! – you can download Chrome here)
Login to Gmail
Go to the 'Move your Photo app' in the Google Chrome web store
Click 'Install'
Seconds later you get an 'Installed' notification
Click the 'Move Your Photos' icon in the upper right corner of the Chrome browser
It then shows the 'Login to Facebook' button, click it
The app then requests access to Facebook, click 'Allow'
Next up this app shows you a browser screen with all your pictures in it
All the way at the bottom of the page, click the 'Upload' button
Once you click it, you'll see that it starts uploading
Notification 'Finished uploading all your photos'
Go to Google Plus, click Photos & voila. All your FB pictures are imported.
Works like a charm!
Thanks for the tip Christopher. Great to know that you can now automatically import your Facebook photos into G+.