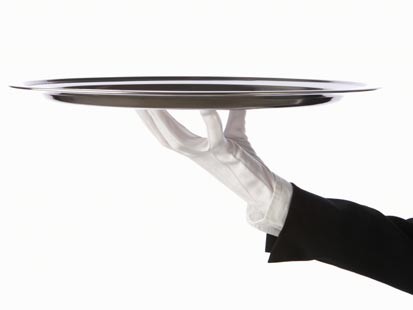 Producing content for marketing purposes is not new. As a marketer, you have been doing it for years. You have created TV and print commercials, door-to-door leaflets, event flyers, sales brochures, press releases, newsletters, copy for your site, et al.
But this isn't Content Marketing. This is 'marketing content'. The content supports your marketing strategy. At the heart it talks about the benefits of your products or services.
With Content Marketing however, you tailor that content to the specific needs of your customers at a specific point in time during their decision making process.
When you have a Content Marketing Strategy, you drive consumers through their full decision making process about your product or service.
It is the art of communicating with your customers without selling. Or rather, the art of selling through informing.
You do this by answering the questions people inevitably have before they decide on a purchase or decide to trust someone.
Selling through informing
Yes. It is still called Content Marketing. In the end, some product or service needs to be sold. So, how does information sell?
I feel there are two very important reasons:
1. Consumer behavior has changed.
As you can read in this 2009 study by McKinsey, consumers now actively research and evaluate their imminent purchase. During this phase in their decision making process, they are reaching out for information. In the traditional AIDA purchase funnel model, the number of purchase options in their 'initial consideration set' decreases. Nowadays, a prospect starts with initial considerations, start researching and evaluating and then other options start emerging. In other words they have more options to purchase. Not less. This is a massive change in consumer behaviour.
2. As a marketer, you need to fulfill your prospects' needs
Your prospects have specific needs, at specific points in their decision making process. By focusing on helping them thru their decison making cycle, you build customer loyalty and preference. People talk about you. You generate more leads. Convert more traffic into sales. You position yourself as a Trusted party.
And on the social web… Trust is the wholy grail of Marketing.
So where do you start?
How do you get to grips with Content Marketing? Here's 3 pointers to help kick you along:
1. Start by thinking of your prospects as real people
On the social web, there are no longer market segments, only market niches. They have specific individual needs. What do those specific individuals value in a vendor or a brand? Who influences them? How do they search for products and services? Which social channels are important to them? Do they read PDFs or would they prefer to watch a video?
2. Start thinking about their decision making process
People don't just read a single piece of content and then buy. They research, they evaluate, they ask their friends, talk to colleagues, compare their options, and so on. Early on in their decision making process they might, for instance, focus heavily on features, ease of use or price validation. Later, their questions and need for information could shift to customer service and reliability.
So you need to know their main reasons to buy. And more important even; their reasons not to buy. You need to proactively address any possible issues!
3. Take a good look at your existing marketing content
How would you change your existing marketing content so it connects better to the questions people have at specific times in their decision making process? Start with your website.
Here's one last tip: it's all about them, not you…