Some time ago I wrote about 10 reasons why your company should blog.
In this research from emarketer.com, they asked Chief Marketing Officers of US Fortune 1000 companies why they thought they should blog.
These were their answers: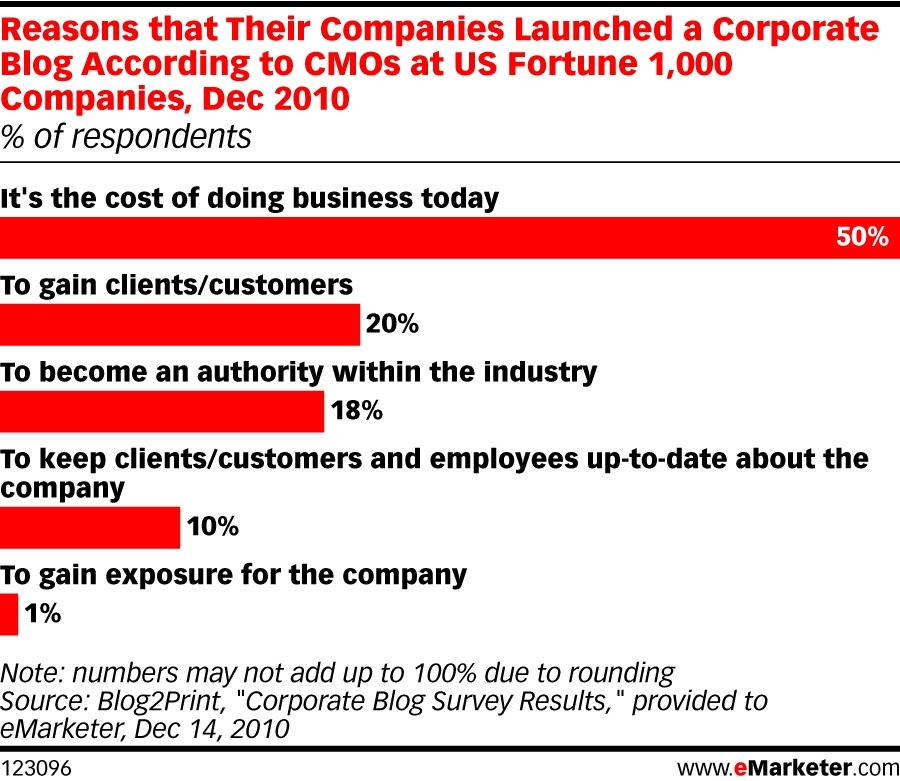 Now I'm wondering: are they Blogging for the right reasons? Here's my take on these findings and a few tips along the way:
It's the cost of doing business today (50%!)
Ehrrr? Que? This sounds like 50% of these CMOs see Blogging as something you just have to do in todays' webby world. A nice little extra thingy. Icing on the cake. A gimmick!
Tip:
Set business objectives!! Decide what you want to achieve with your blog. Help drive sales? Drive awareness with journalists? Engage with influencers? Manage online reputation? Whatever you do: set metrics, measure progress, adjust, do more of what works and start figuring out what drives actual results.
To gain clients and customers (20%)
OK. Fair enough. Gaining clients is good. But making your blog work for sales really depends on what you sell, and what kind of content you publish.
Tip:
Blogs are great for consistently providing your target audiences with useful information. To help people with their purchase decisions. But focus on the stages of their purchase cycle. Offer the right content at the right time. And remember, you don't need to market at them. It's selling through informing!
To become an Authority in your industry (18%)
Again: a great objective. Great way to get your point across, gain influence and build credibility.
Tip:
If you want to build thought leadership you need to be very very clear about your subject matter. You need to define the topics you want to make impact on. And create a publishing plan to keep you on track.
To keep customers and employees up to date about the company (10%)
There  is more than one way to do this. Do you really need a blog for this?
Tip:
If you're gonna keep your customers and employees up to date through a blog, make sure it's stuff they really value! Don't make it all about yourself! Key question: what's in it for them?
To gain exposure for the company (1%)
That makes these marketers look a bit like web 1.0 exibitionists! Exposure? Where? With what? For who?
Tip:
Don't think in terms of 'getting visible on the internet' and 'gaining general awareness'. On the social web, you are not broadcasting corporate messaging to faceless mass markets segments. Make sure you do it targeted!
What are MY reasons to blog???
I won't bore you with our full business plan. But in a nutshell, the main reasons I blog are:
To help out our clients with some of the practical issues they face every day
Help prospects to better understand the possibilities of the social web for their business
To let them know who I am and what I can do for them.